My main goal here at Changing the World Pebble by Pebble is to s

pread awareness of various causes, help individuals learn how to save money and resources, and inspire others to use what they have to help those in need.
I was very fortunate to grow up with my grandmother. And although we were what you would consider poor, she always made sure she took care of everyone she came across. She said as long as you have a roof over your head, food to eat and clothes to wear, you are much better off than a lot of others. She always found ways to help here and there with what little she had. I am so lucky to have had a Granny that taught me the joy in helping others and that you don't have to have much to do it.
It has been my life long goal to help every single person that needs it. Obviously no one person can help the entire world which is why I began sharing with others how to help for very little or even nothing at all.
Right now bloggers, like myself, are teaming up for Couponing for the Community 2012. It is a collaborative effort to promote various ways to help others by using couponing and deal finding skills. Our goal is to get as many FREE or cheap items available and donate them to various places, such as homeless shelters, crisis pregnancy centers, food banks, animal shelters or even people in our communities.
C4C is a nation-wide event combining the power of couponing and social media to GIVE BIG during the week of May 6-12, 2012.
You can join in by going to the Couponing for the Community 2012 facebook page and clicking "like". And if you haven't done so yet, "like" Changing the World Pebble by Pebble on facebook too.
We all will be posting ways to gain FREE or nearly FREE products that you can compile and donate May 6-12, 2012. You can even tally up your items and share your amounts on the
Couponing for the Community 2012 facebook page, so that they can see how many people were helped!
To get even more tips and deals, consider following some of my favorite deal finding bloggers. A list can be found HERE.
For ideas on where to take your items or to find a food bank or pregnancy center near you, Click HERE.
Food items can also be easily donated on Saturday, May 12, 2012, Stamp Out Hunger Day by leaving a bag of non-perishable food items by your mailbox. To learn more, click HERE.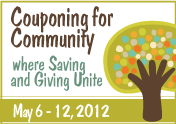 "like" me on facebook for even MORE deals, tips and ways to help others! CLICK HERE and then click "like".